Classic Bulbs has developed two new LED festoon lamps designed for use in "pop-up" semaphore 'Trafficators' such as the Lucas SE100/SF80 unit. 
These LED lights are 36mm long with 8mm caps and slimline electronics featuring three very bright 5730 SMD LEDs on each side of the panel plus an integral flasher unit. This miniaturised onboard flasher unit means no wiring modification is required in the trafficator circuit – just fit the light in place of an ordinary B255 or B256 festoon bulb and the LEDs flash automatically when the trafficator is activated. The six very bright 5730 SMD LEDs are significantly brighter than the original fit 3W incandescent festoon bulbs – this large increase in brightness, plus the flashing action, greatly improves visibility when indicating with a trafficator.

Original incandescent festoon bulb for trafficators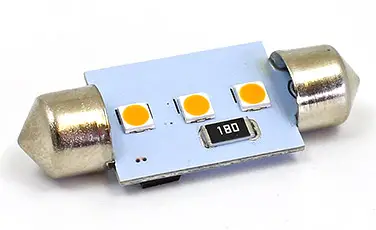 New bright, double-sided  flashing LED upgrade from Classic Bulbs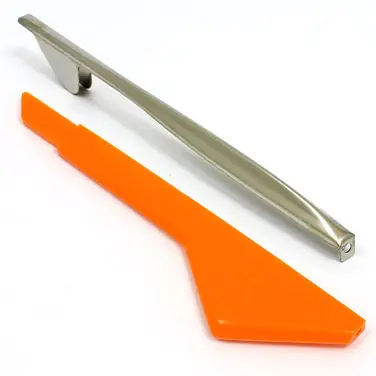 Replacement stainless semaphore arm & Amber lens for Lucas SE100/SF80 Trafficators
The lights fit a number of trafficator arms/lenses – including those used in the common Lucas SE100/SF80 units; our part numbers are 215(orange lens) and 215B (stainless-steel backing strip). These brilliant LED lights are compatible with either negative or positive earth systems and available in 6V, part number B255BLEDA  (replacing incandescent bulb number B255B) and 12V, part number B256BLEDA (replacing incandescent bulb number B256B). These lights also have a very low current draw – over 70% less than incandescent and halogen bulbs so they are great for low-powered electrical systems.
Improve your visibility and safety with these great new products from Classic Bulbs.
Looking after your trafficators
Our comprehensive guide to semaphore trafficators and their fitting, maintenance and repair. Focusing on Lucas SE100/SF80 units, but useful for all pop-up semaphore type indicators. READ MORE