Unit 7 Merebrook Business Park • 
Hanley Road • Malvern • WR13 6NP  Open Mon-Fri 8:45am-4:45pm
About Us
The Vintage and Classic Spares Group
Vintage and Classic Spares is run by a small team based at Merebrook Business Park, next to the Three Counties Showground, at the foot of the Malvern Hills in Worcestershire.
Left-to-Right – Warren (sales), Paul (marketing), Colin (workshop), Peter (sales), Richard (sales/workshop), Ray (warehouse), Carly (accounts), Andy (warehouse), Hannah (office manager), Matt (manager).
All the businesses operate from our 15,000-square-foot warehouse. We also have workshops for machining, assembly and lighting/wiring.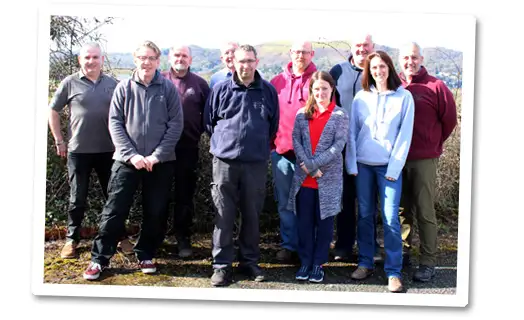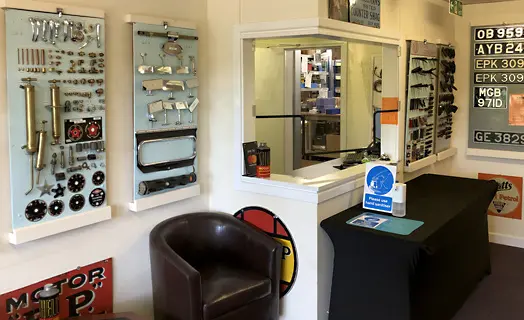 Vintage and Classic Spares is dedicated to providing a wide range of parts and accessories for the veteran, vintage and classic motoring enthusiast. A group of companies under one roof run by a dedicated team with enthusiasm and years of specialist vintage vehicle knowledge.
As well as huge collection of specialist fittings – many especially commissioned or manufactured by ourselves – we also stock a comprehensive range of Ford parts and engine spares for many types of older vehicle.
We have a sales counter at our stores near Malvern, open Monday to Friday, 8:45am to 4:45pm.
At Vintage and Classic Spares we commission and assemble many exclusive parts. Wherever possible we use local or UK companies and craftspeople. The range includes many vintage-type light assemblies, horns, mirrors and windscreens. We make specialist trims, beading, vents, fuel gauges and priming pumps for vintage cars.
We keep classic Fords on the road with previously unavailable pistons, bearings, bushings, valves, camshafts and engine mounts. Ford Aquaplane performance parts keep the side-valve engines in top tune.
Our Classic Auto Bulb range grows almost daily with rare pre-focus and 6v bulb fittings as well as our specially commissioned LED options for classic vehicles.
Address
Vintage and Classic Spares
Unit 7 Merebrook Business Park
Hanley Road, Malvern
Worcestershire  WR13 6NP